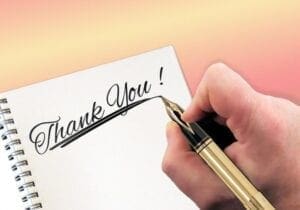 Gengenie Research
If you are not sure whether Gengenie Research are what you are looking for why not have a look at the Testimonials left by our clients over the years, we are always grateful for feedback and are happy to share our clients reviews so that you can decide for yourself.
Thank You to all our Client's for the Wonderful Testimonials
Wes, America ~ Shirley was very helpful with my genealogy search. Her unique expertise was invaluable. With her help, I was able to trace my family's Scottish heritage back to the 1600's. She compiled the research into a completely organized report. My wife and I even made a trip from the US to visit Shirley and her family in Scotland! We are very grateful for her assistance.
Kathryn, America ~ While I successfully researched my Scottish ancestors in the states, I could not find any information about their origins in Scotland other than that they came from Inverness. Through ASGRA, I connected with Shirley who not only found (with a high degree of confidence) several additional generations on both sides of my 4th great grandparents, but also gave me suggestions of sites where I might find ancestral homelands when we visit Scotland in the fall. She provided resources and contact information for which I am extremely grateful . I can't wait to travel to Scotland and visit those places!
Shirley has given me the confidence to continue my quest for more of my ancestors who came from other European countries.
Mark, United Kingdom ~ I had been researching my family tree for years and got stuck on one ancestor. I contacted Gengenie and within one week I had all the details of that ancestor and copies of all their documents. The report also found previous generations. An excellent service, very professional and nothing was too much trouble for them. Highly recommend Gengenie to help you in your research.
Robert, Scotland ~ Could not have wished for better help and information. Could not recommend highly enough. Many thanks for all your help👌
William, America ~ I have used Gengenie Research twice on my Campbell line. The reports were received in a satisfactory time frame. They were clear and easy to interpret. The future research possibilities were covered and useful. I would use this company again.
Peter, Scotland ~ Absolutely brilliant service would highly recommend Shirley is very easy to deal with and very knowledgeable in her field couldn't of done it without her.
Joel, America ~ Shirley did a top notch job of ferreting out the life details of my great-grandfather and great great-grandfather! I highly recommend Shirley for your Scottish family genealogical research.
Ian, Canada ~ In the search for my birth mother I had two logical candidates. Shirley helped me to Elizabeth my first choice which was based on age. I had researched her for a year. Once Shirley helped eliminate the wrong choice everything fell into place and my second choice was in fact my birth mother. Shirley even went above and beyond by helping me compare signatures. She was patient and supportive and researched the house I was born in which turned out to be a midwife. I am eternally grateful for her help.
Ellen, America ~ Thank you so much for your hard work, especially under trying research conditions." (COVID 19 Restrictions were in place)
Marc, America ~ Thank you for your great research. Looks like you made the correction on the one line, Robert ***** b 1772 son of Peter ***** & Lilian ****. Wonderful! Looks like good solid research. Cheers!
Deana, Canada ~ I believe I have found an honest and hardworking genealogist to help me in my quest. I am a believer that God sends us who we need, you are it!
Melissa, America ~ Dear Shirley, if it wasn't for you, I would never have thought to look for Adams marriage cert. It was right there. Mother (Margaret ******) and father (James *******) I also downloaded his death certificate, States the same, but his mother had married and gave her name as ********, which would be correct. Again, heartfelt gratitude.
Caroline, Edinburgh ~ We wanted to find out about relatives lost in WW1 and asked Shirley to help. She went above and beyond and the information I received back was way above expectations. There's no way I could have got all this myself. The family tree printout was fantastic as it helped us relate what the notes said. Thank you Shirley, for the family history research on our family. I would recommend this service if remotely interested as it is such good value.
Wesson, America ~ Dedicated researcher, going above and beyond to provide the very best results. Highly recommended
Peter, England ~ Shirley was highly recommended to me by a close relative and she provided an excellent service tracing members of my extended family and filling out my family tree. Not only was Shirley able to confirm and add to what I thought I knew, but she also provided me with extra, up-to-date information which provided a full picture of the area I was researching, some of which came as a completely unexpected, added bonus.
I found Shirley to be completely professional, good value for money and very easy to communicate with. VERY satisfied customer…
Ann, Livingston ~ I recently contacted Shirley regarding a needle in a haystack situation with my relation born circ. 1855 and she gave advice and ideas on how to trace My great-great Grandmother. Shirley was very helpful and knowledgeable and I would definitely use her services again.
Jim, England ~ Well, my sister and I spent over 5 years looking for a lost aunt. no luck. gave details to Shirley and with her knowledge and access to websites I never knew existed she found out all about her literally the next day. unbelievable. Sadly, we were not included in my great aunt's will as my father has always maintained however it was so good to know at last what had become of her. Shirley is a very friendly and approachable person and so helpful. thanks again for all your help Shirley
Lynnsay, Australia ~ I had a very successful job done by Shirley of Scotland's Gengenie. She was extremely helpful and supplied much extra info in related matters. As a result of her work I am now a commissioner of a highland clan for Australia. Thoroughly recommended.
Lynnsay, Australia ~ Gengenie Research has just completed an amazing family tree for my family in a very short period of time. Unfortunately, it was decided a short time before my brother's 50th birthday that we should go ahead and make the family tree. Shirley has done an amazing professional job with plenty of research and documentation which we did not expect in the time frame. My family is delighted that we have this family tree to display and pass down to our generations.
Jane, Scotland ~ I am really happy with your work and what you achieved
Paul, Scotland ~ Well…… just had my family tree completed by Shirley and it's been a long time coming. Brilliant work and so worth it !!!
Alistair, Scotland ~ Many thanks for a most professional service, I will recommend you!
David, Scotland ~ Thank you very much for your help, that was incredible!
Testimonial from Wesson Murray Brown, a client of many years who wrote this Ode to Shirley as a thank you for researching his ORR Ancestry. His Client Review was received with great appreciation.
ODE TO SHIRLEY
There once was a genie named Shirley
She could find the un-findable, this girly!
On top of this, good humour was her call
And she had a vocabulary that would astonish all She wears the plaid but that is okay
As she now resides in the U.K.
Because she uncovers the mystery
Your family tree will grow extensively She works tirelessly and never complains
Even when my narrative is late and I'm to blame.
She works hard late into the night
So I can see her handiwork at first light Always pleasant and never accusing
When I know my additions are abusing
An even temperament this lass has
But I would not blame her if it were bad When I am wandering she gently guides
And I end up thinking she is smooth as a slide
With all the grace of a true professional
I could almost end up in her confessional Sometimes chuffed but never tough
She enjoys a bevvy after working heavy
Loved by family and clients alike
Her spirits are always as high as a kite I wanted to add a few family pics
So the genie worked her tricks
Now we have upon the tree
Faces of loved ones for all to see We are now family, my genie, my wife and me
Adding the latest born is but planting a wee acorn
As Ella matures and looks upon the tree
She will know all of her genealogy It is a long way across the pond
But through this work we have a bond
Written by a client with his tree
Who will visit and meet his genie eventually If you need help with your genealogy
Visit this genie and take her to tea
I am no poet and have no fame
But I like my genie just the same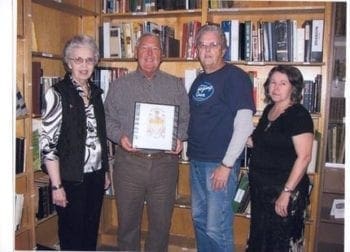 Wesson Murray Brown presenting the completed Orr Family History Book to Ola Jean Kelly, Executive Director of the Union County Museum, South Carolina, Bruce Harley Whisnant and Delle Bright, Assistant to the Executive Director of the Union County Museum. Jan 2011
Cindy, America ~ Thank you for bringing my family back to life.
---
We at Gengenie Research are delighted when clients leave Endorsements telling us how much they enjoyed our research so please feel free to drop us a line with your own experiences of our Genealogical research and how you felt when reading the finished files.